FHC CIVIL SERVANTS OF THE YEAR AWARDS
Civil Servants of the Year Award 2019
FHC CREDIT UNION HONOURS THREE CIVIL SERVANTS FOR OUTSTANDING SERVICE
As the new Executors for Civil Servants of the Year Awards, First Heritage Co-operative Credit Union (FHC) will award three (3) distinguished government workers as Civil Servants of the Year. FHC's renewed partnership with the annual Civil Service Week (CSW) initiatives, came after a year's hiatus for 2018 of the Civil Servants of the Year Award nothing that this association between FHC and the CSW will facilitate a revamp of the annual awards with the three awardees, up from a single Civil Servant of the Year awardee for the previous 15 stagings.
For 2019, from the eight shortlisted candidates, the three Awardees were Candice Henry of the Jamaica Defence Force Coast Guard; Sophia Levy of the Administrator General's Department and Celia Lindsay of the Jamaica Information Service (JIS). The three civil servants were acknowledged for outstanding performance in the areas of Technical Support, Middle Management and Management, respectively.
In addition to plaques and citations, the awardees each received individual cash incentives of $200,000 courtesy of FHC Credit Union and a further grant to the winners for $150,000 allocation for a joint community project.
Civil Servants of the Year Award Outreach Project
FHC Civil Servants of The Year Hand Over Equipment and Educational Items to Homestead Place of Safety and Basic School
The Civil Servants of the Year are selected annually by the Civil Service Week Steering Committee in the Ministry of Finance and the Public Service with sponsorship from the FHC. As part of their reign for the year, they are to plan and execute a community project.
The three Civil Servants of the Year handed over much needed items to Homestead Place of Safety for Girls, in July and the National Baptist Basic School on Greenwich Street in Kingston, in September.
See highlights in gallery.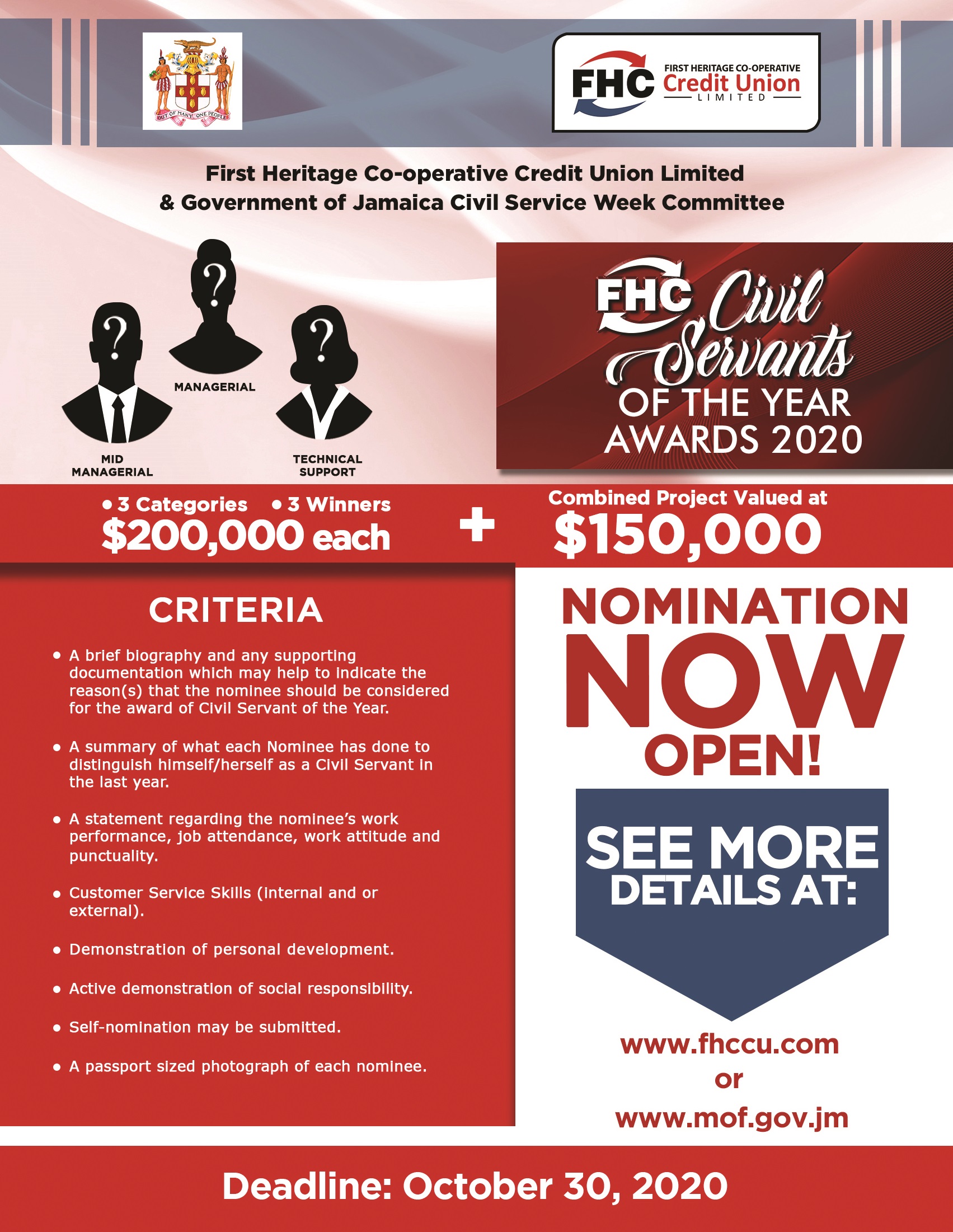 NOMINATIONS ARE NOW OPEN
Are you a Civil Servant? This could be YOU!
Apply for the FHC CIVIL SERVANTS OF THE YEAR 2020 AWARDS NOW!
ELIGIBILITY REQUIREMENTS:
The nominee must have been employed for a minimum of (3) continuous years.
Nominees will be assessed based on the following Criteria:
Achievement and Job Attitude: How well the Nominee performs on the job.
Personal Values and Character: How well the Nominee portrays moral and ethical, values; respect others and leadership qualities.
Customer Service Skills (Internal and or External): Interactive attributes.
Personal Development: portrayal of interest and effort to improve self professionally.
Active Demonstration of Social Responsibility: Active participation in charitable activities.
SUBMISSION OF NOMINATIONS:
Please send four (4) copies of each nomination to:
Mrs. Lorna Phillips
Chairman
Civil Service Week Steering Committee
Ministry of Finance & the Public Service
Strategic Human Resource Management Division
Employee Relations and Benefits Unit
30 National Heroes Circle
Kingston 4
DEADLINE FOR SUBMISSION OF NOMINATIONS:
All completed forms and relevant attachments must be submitted by Friday, October 30, 2020.
Download Application for further details Here