Our Beliefs
To promote the development of Jamaica's youth, in particular disadvantaged children and young people, through education, sport and community involvement, creating opportunities for growth towards the advancement of nation building.
To transform lives through the creation of opportunities for the youth of Jamaica.
Our Mission Statement and Vision speak to our focus on enhancing the communities in which we operate. FHC has a passion for Youth Development, particularly in the areas of education and sports and have, over the years, been making significant contributions by way of cash and kind to these causes. Our mandate has therefore propelled us to form the FHC Foundation which was established to:
Promote the development of Jamaican youth, in particular disadvantaged children and young people in primary, secondary and tertiary schools through education and sports.
To promote and facilitate programmes which assist young people in improving their capabilities through skills training and to facilitate them in creating and pursuing economic opportunities to better their lives.
Board Members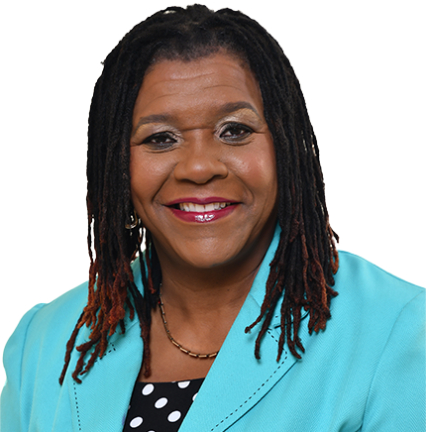 Mrs. Leodis Douglas
CHAIRMAN
Mrs. Leodis Douglas is currently the Human Resource Director and Principal Lecturer at GC Foster College of Physical Education and Sport. In this capacity, Mrs. Douglas is charged with responsibility to guide and manage the overall provision of Human Resources services, policies and programs for the entire college

Before her tenure at GC Foster College, Mrs. Douglas worked at Ministry of Education, Youth & Culture as a Project Manager, and it is during that time that she became a member of GSB Cooperative Credit Union where she worked as a volunteer holding several positions from that of Departmental Representative, member of the Nomination Committee to Assistant Secretary on the Board of Directors.

With an insatiated desire for volunteerism in the credit union movement, on August 1, 2012 Mrs. Douglas was elected to serve on the board of First Heritage Co-operative Credit Union (the newly merged entity of GSB and Churches Cooperative Credit Unions). She presently holds the position of 1st Vice Chairman on the Board, as well as the FHC Retirement Scheme Board of Trustee.

Among her many qualifications, Mrs. Douglas is the holder of a Masters in Business Administration from Florida International University, a B.Sc. in Human Resources Management, graduating summa cum laude and a Diploma in Secondary Education with Honours.

Leodis has been the recipient of several academic awards among which are the 2004 FIU International MBA Scholarship, the 2004 UCJ/IMP Trophy for Most Outstanding Student, and the 2002 GSB Credit Union Renald Mason Scholarship. Mrs. Douglas is a certified Caribbean Credit Union Development Educator, (C-CUDE), member of the Jamaica Employers' Federation, the Association for Supervision and Curriculum Development (ASCD) and the Human Resource Management Association of Jamaica, just to name a few.

Mrs. Douglas lists her hobbies as singing, reading and socializing. She is married for over 25 years to Robert with three children: Tremayne, Lori and Robert Jnr.
Mr. O'Neil Grant
DIRECTOR

Mr. Grant is currently the President of the Jamaica Civil Service Association, a position which he has held since June 2011 He is also currently the Chairman of the Board for First Heritage Co-operative Credit Union Limited. He has served in several senior positions in various Ministries and Public Service including now being on the Board of the National Housing Trust.
Mr. Grant has served the credit union since 2009 when he was elected to the Board of GSB Co-operative Credit Union Limited. He is a trained Accountant and Financial Analyst with over 19 years of experience in his chosen profession. A consummate professional with high ambitions, he is currently an Executive MBA student at the Mona School of Business.
A strong believer in production and productivity he has partnered with other individuals to form Heskeith Farms Limited and is a major shareholder of Hemzonic Limited which operates in the Agro Industry.
O'Neil has two children, Roje 19 who is currently studying at the UWI and Onella 13 who is at the Immaculate Conception High. He enjoys cooking, gardening and sports.
Mr. Edmund Jones
DIRECTOR
Mr. Edmund Jones is the Technical Support Manager at the Ministry of Finance and Planning. He joined GSB in 1982 and was appointed to the FHC Interim Board in 2012. He was elected to the Board in 2013 and serves as the Board Secretary and sits on a number of committees.
He holds a BSc in Management Studies and a number of professional qualifications. A career Civil Servant, Mr. Jones has served in various capacities in the Public Sector including a stint as Director at Creative Productions and Training Centre (CPTC). A family man, Mr. Jones enjoys spending time with his family and reading, playing chess and programming.
Mrs. Beverly Stewart
DIRECTOR
Mrs. Beverly Stewart is the founder and Chief Executive Officer of Jamaica Soul Vacations. Her key competences are marketing and business development, mediation and corporate governance and financial management. She worked with both the Wyndham Kingston Hotel and Air Jamaica Limited in senior management positions and holds a Masters of Business Administration from Barry University, Miami, Florida. She has strong decision making skills, marketing experience and business acumen. She previously served on the Board of Directors of Churches Co-Operative Credit Union Limited.
Our Commitments
GSAT SCHOLARSHIPS
The objective of the FHC Foundation is to promote the development of the Jamaican youth in the areas of Education, Sports and Skills Training. Special emphasis will be placed on the improvement of literacy at the Primary and Secondary level.
We recognize the achievement of our youth savers, by awarding our GSAT recipients a scholarship to assist them from 1st form up to 5th form. The objective of the scholarship aims to fulfill our mandate of giving back to our members, to encourage children to strive for excellence in academic performance and to promote a thrifty savings habit amongst young Jamaicans.
TERTIARY SCHOLARSHIPS
FHC Credit Union through its Foundation offers the prestigious Renald Mason & Oswald Thorbourne Scholarships to Members and children of Members entering 2nd to final year at a tertiary institution. The FHC Foundation try to meet the expense of financial challenged students who are in good standing academically but is having trouble paying their school fees. These students are sometimes well-rounded students involved in their schools and communities.
Applicants are required to have a minimum "B" average and who are financially challenged. The Foundation opens the application in the month of May each year.
Interested persons are required to submit the following documents for both awards:
OSWALD J. THORBOURNE SCHOLARSHIP
Persons Eligible:
Applicants must be 35 and under years of age
Final year Business Management /Administration students attending select tertiary institutions: Northern Caribbean University; University of the West Indies; University of Technology; University College of the Caribbean.
Applicant must be an active member of FHC for at least 6 months
Must have maintained at least a "B" average
Must have been involved in community projects or exemplified leadership skills in clubs, associations or any other civic institution.
Two (2) written references must be submitted to verify applicant's involvement in projects.
Applicant must not be the recipient of any other current scholarships
RENALD MASON SCHOLARSHIP
Persons Eligible:
Applicants must be 35 and under years of age
Must be a Member or the child of a Member of FHC
Final year student at any recognized tertiary institution
Must demonstrate community volunteerism
Must demonstrate financial need
Applicant must maintain a GPA of 3.50
Note: Transcripts should be submitted to outline GPA
SPECIAL EDUCATION GRANTS
The FHC Foundation is committed to its cause and from time to time we see students who do not meet the required qualification to obtain a scholarship. Therefore, the Foundation through its vision statement "to transform lives through the creation of opportunities for the youth of Jamaica" we offer the Special Education Grant to the most needed applicant with financial challenges.
ENTREPRENEUR AWARDS
The FHC Group through its Foundation provides an Entrepreneurs' Award which is to encourage entrepreneurship among our young generation. Each grant is valued at $500,000.00.
Generally, any business plan requiring start-up capital above $500,000 will not be considered. However, if the business is deemed to be feasible, the plan may be considered and the beneficiary would be introduced to additional financing after the approved business has started. This is in addition to other loans that would be available to each awardee as a member of the Credit Union. Top-achieving students from all faculties of recognized tertiary institutions are eligible to apply for the awards.
QUALIFICATION:
Students who have maintained at least a "B" average at the end of their study, and who intend to start a business within 6 months after graduation, are invited to prepare and submit a comprehensive Business Plan for the Small Business enterprise.
The Plans that are judged to be the top three and most feasible, will each receive the sum of $500,000.00 for use as start-up capital.